In an attempt to get some content on here, up for your appraisal.
Librarian null zone, the avenger or avenger and gate
Dreadnought with Assault cannon and heavy flamer, drop pod
Dreadnought with Autocannon and heavy flamer, drop pod
Combat Squad, rhino
Scout squad, missile launcher
Thunderfire Cannon, drop pod
Predator, autocannon and lascannon sponsons
Predator, autocannon and lascannon sponsons
Ideas behind this? Solid cheap anti-tank in the form of 2 predators presenting their av13 while sitting behind a 3+ cover buffed ruin by the thunderfire's techmarine. 2 dreadnoughts drop down and disrupt enemy lines either laying down good anti-infantry firepower or even threatening light tanks especially since we're talking back armour here. Librarian probably goes with the tacticals and spews stuff out the top hatch. Troops in general go into reserve with the scouts probably outflanking to keep them off the table long enough for the enemy to hopefully not have enough stuff left to really threaten them by the time they arrive. All kept quite mobile so it's easy to linebreak/sneak onto free objectives. If librarian has gate then he can linebreak instead. Bit more anti-tank added in the form of a missile launcher and grenades but that's really a last resort.
Flyers? Ignore them unless they're the only thing left.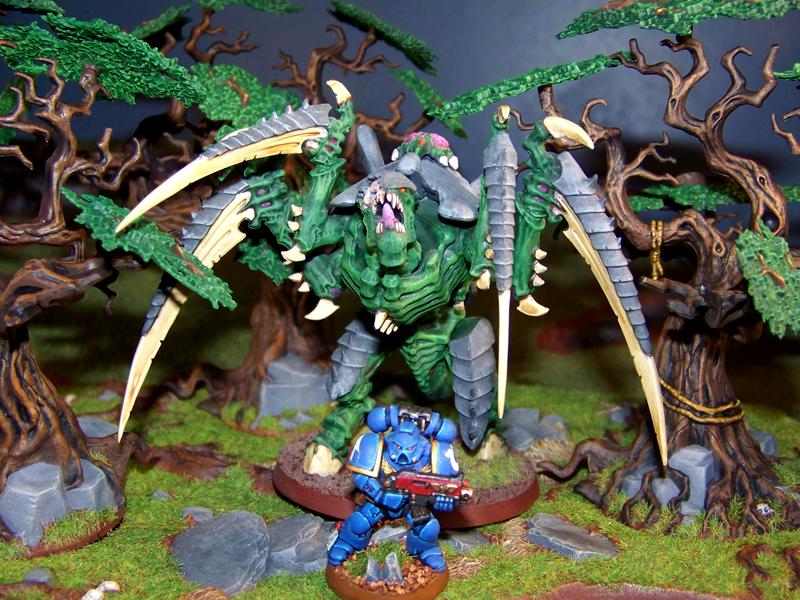 My thoughts on this? Quite unusual, quite daring and with a bit of luck could go the whole way. The one thing that would improve this is a fully kitted out sternguard squad but mine aren't optimally equipped and I don't currently have enough of them. That said this list hides it's infantry very well so anyone bringing loads of AI will probably have it wasted.
Potential bad matchups? IG, always IG, potentially daemons, tau if they manage to shoot the dreads down quickly enough, otherwise incredibly horde heavy armies might ruin my day but I'll still give them a good fight. What I'll do well against on the other hand is any types of space marines, eldar and dark eldar as I can negate some of their shenanigans and mech armies. No clue about necrons and not sure about nids as I haven't versed them yet but we'll see.